Toronto, Canada.... London, U.K.... Karachi, Pakistan... New Delhi, India... Tokyo, Japan
---
Local time and date is:
---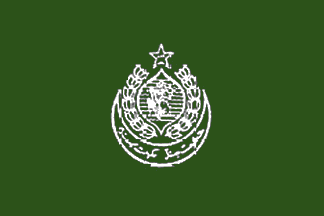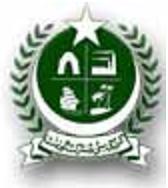 ---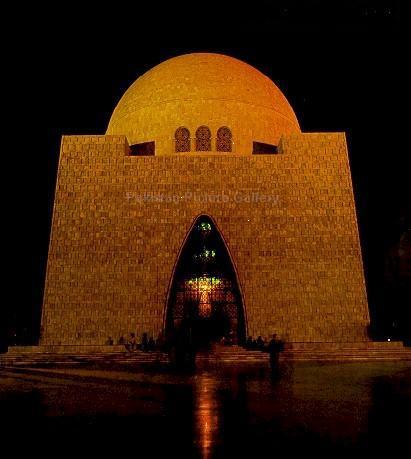 Quaid-i-Azam Mohammad Ali Jinnah's
Mausoleum
Built entirely of white marble
(Founder of PAKISTAN)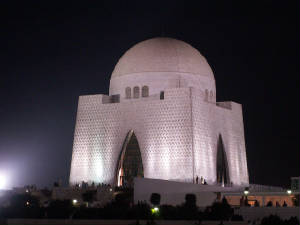 Karachi is a city that has a large variety of places to go and things to do. In every part of the city there is some club or organization. No matter where you are, you can be guaranteed a good time. However in order to find these places and things to do you have to know where to look.
This metropolitan city of Karachi was until 1725 A.D. just a barren piece of land , washed on three sides by the blue waters of the Arabian Sea. A few fishermen lived in a small huts on the sunny creek. There was a pool of water on this barren piece of land which was known as Kalachi-jo-Kun. Kalachi was the name of fisherman whereas kun meant a deep kitch. Therefore, "Kalachi-jo-Kun" meant the deep ditch of Kalacahi, the fisherman.
A few mud huts sprang around this point and their numbers increased. Gradually a village came into being . This village was called as Kalachi-jo-Ghote, which as time passed grew into prominence.
"One day she will be the Queen of the East", said Charles Napier a hundred year ago about Karachi. It was then only a small village. Today Karachi bursts upon the visitor as a vast commercial and industrial center, a sea of people teeming with human activity, its population having already exceeded nine million mark and still growing.
CLUBS
Most of the social and athletic clubs allow foreigners to join on a temporary or non-voting basis, but a sponsor is necessary for membership. As liquor is prohibited in public places and Pakistani private clubs, home entertaining has become the most common from of socializing. However, clubs are still used for sports, business entertaining and other social gatherings.

American Consulate Employee's Association
Opened in 1984, this social club is run by the American Consulate. It is open for U.S. citizens and their dependants assigned to Pakistan by International Companies and Organizations and the Third Country Nationals. A Guest Member has to be sponsored by two ACEAK members, of which one has to be a Full Member (Consulate employee). The dining room serves a varied menu including American specialties. There are regular dart nights at the Club when guest teams are invited and occasional special events for members. Contact the Manager for details.
Location:1 Beville Lane Tel: 568-4851
DHA Syed Saeed Meer Sports Academy/Club
This facility offers tennis and squash courts, with professional coaches. The luxury swimming pool is open to members and guests. Swimming lessons are offered for children with expert supervision and guidance by the staff.
Location: TC V, 34th Street, Khyaban-e-Sehr, DHA Phase 5. Tel: 585-0242
New Queens Road; offers sculling and dining on the patio or in the air-conditioned dining room. There is also a room for private parties. It is set amid beautiful gardens on the water.
Bunker Island is primarily for sailing and racing although some landlubbers join to enjoy the social activities which include barbecues, moonlight sails, and sailing picnics. Launches run regularly to the island Thursday through Saturday, other days special arrangements need to be made. Meals are served in a very informal atmosphere.
Located on Abdullah Haroon Road, it offers tennis, squash, billiards, and has a swimming pool, dining room, and excellent library. Set in lovely gardens, and favored for business entertaining, it provides residential and transient accommodation for adults only. There is a strict membership criteria and members are not allowed to take a male guest to the pool.
The Caledonian Society, Karachi
This society was formed to promote fellowship among Scots in Karachi. Although ordinary membership is restricted to persons with at least 25% Scottish heritage (i.e. a Scottish Grandparent), persons of other nationalities are welcome to join as Associate members. Regular weekly Scottish dance practices take place (except during the summer). Two events are held each year, the main one being the Caledonian Ball at the end of November (to celebrate St. Andrew's Day). A piper and haggis are usually flown in from Scotland for the occasion. A Bums Night is held at the end of January to celebrate the birthday of Scotland's most famous poet, Robert Burns. Contact details can be obtained from the BWA.
U.K.A.P. (The United Kingdom Association of Pakistan)
Membership is open to all British citizens who have registered at the British Deputy High Commission. Membership forms and contact details are furnished at the time of registration. Monthly activities are held including games nights and there are occasional weekend trips.
---
Attractions in and around KARACHI
Chaukundi
Located on the National Highway, 27 kms from Karachi, Chaukundi tombs comprise of innumerable sandstone graves with strangely-carved motifs, date back to 16th-18th centuries in Sind.
The Chaukundi Tombs are archaeologically interesting. The tombs are constructed out of slabs of rocks stacked into elongated pyramids of cubical stones and carved with exquisite designs, the origin of which remains a mystery.
Banbhore

About 64 kms (40 miles) east of Karachi is Banbhore, an archaeological site which some scholars identify with Debal, the port of city where the Arab General Mohammad Bin Qasim landed in 712 AD.
This site is believed to be the port city of Daibul which flourished in 8th century AD. The museum at the site houses a rich collection of painted pottery, coins and beads etc.
Banbhore is one of the Pakistan's old and most popular folk- stories Sassi-Pannu.
Haleji Lake

Situated 70 kms (about 52 miles) from Karachi. Haleji Lake is considered to be largest water fall sanctuary in Asia, and is the main reservoir for Karachi. Its 1-1/2 km off the Thatta road from the village of Gujjo.
Thousands of birds of over seventy species migrate here in winter from Siberia and stay through January and February.
The birds include flamingoes, pelicans, pheasant-tailed jacanas, herons, ducks, partridges and agrets. It is a paradise for those who love birds.
Thatta

Thatta, about 98 kms (61 miles) east of Karachi. At one time Thatta was important as Sind's capital city and as a centre for Islamic arts. From the 14th century four Muslim dynasties ruled Sind from Thatta, but in 1739 the capital was moved elsewhere and Thatta declined. It was believed that this was the place where Alexander the Great rested his legions after their long march. The town is dominated by the Great Mosque built by the Moghul Emperor Shah Jehan which has been carefully restored to its original condition. The mosque's 33 arched domes give it superb acoustics and the tile work, a whole range of shades of blue, is equally fine.
Situated on the outskirts of the new town it is surrounded by narrow lanes and multi-story houses made of plaster and wood which are top by badgirs, the wind catchers designed to funnel cool breezes down into the interiors of buildings. They are also quite common in Hyderabad.
The bazaars of Thatta are known for hand-printed fabrics, glass bangles and Sindi embroidery work in laid with tinny mirrors, one of the more world known handicrafts of Pakistan. Thatta is a fascinating town which appears to have scarcely moved out of the 18th century and is only slowly catching up with the modern world.
---
Abaseen (* star)

CANTT STATION

Ph: 512536

Airport (** star)

SHAHRAH-E-FAISAL

Ph: 457041-45

Al Bilal (* star)

SADAR

Ph: 5681176, 5681267

Al Darwesh (* star)

SADAR

Ph: 7512585, 7512587

Al Dubai (* star)

SADAR

Ph: 5685670, 5686489

Al Fayyaz (* star)

CANTT STATION

Ph: 511344

Al Haider (* star)

CANTT STATION

Ph: 517416, 512537

Al Haram ( * star)

SADAR

Ph: 5670331-35

Al Jameel (* star)

KHARADAR

Ph: 7514361, 746682

Al Noor Ramzam (* star)

SADAR

Ph: 7524862
Al Khair (* star)

SADAR

Ph: 7524046, 7524045

Al Macca (* star)

SADAR

Ph: 7524606, 749784

Al Majeed (* star)

CANTT STATION

Ph: 7773944, 7734852

AL Mashriq (* star)

SADAR

Ph: 5681004, 5682742

Al Mushtaq (* star)

SADAR

Ph: 7729706-08

Al Noor (* star)

SADAR

Ph: 747254, 7513408

Al Noor Ramzam (* star)

SADAR

Ph: 7524862

Al Salatin (* star)

SADAR

Ph: 511942,512904
Al Sonober (* star)

CANTT STATION

Ph: 513562

Al Tahir (* star)

CANTT STATION

Ph: 517319, 518291

Al-Emirates (* star)

SADAR

Ph: 7511553,745322

Al-Faisal (* star)

SADAR

Ph: 747163,745224

Al-Faisal (* star)

CANTT STATION

Ph: 519291

Al-Mairaj (* star)

SADAR

Ph: 7512551,7512586

Al-Mustafa (** star)

SADAR

Ph: 5660507,5661047,5661053

Ambassador (* star)

SADAR

Ph: 5675081-5

Ameer (* star)

CANTT STATION

Ph: 512888

Arshi (* star)

SADAR

Ph: 7528674,742992
Avari Tower (***** star)

SADAR

Ph: 5660100

Bano Lodge (* star)

SADAR

Ph: 2444591

Beach Luxury (*** star)

CLUB ROAD

Ph: 5611031-37

Bilal (* star)

P.E.C.H.S

Ph: 4543192-448792

Bismillah (* star)

SADAR

Ph: 747930

Bolan (* star)

CANTT STATION

Ph: 517438

Carlton Hotel (**** star)

DEFENCE

Ph: 5849172-86 Fax: 5849170

Chanab (* star)

SADAR

Ph: 211000,219821

Chandni (* star)

SADAR

Ph: 5674474

Chinar (* star)

SADAR

Ph: 743605,743612

De Paris (* star)

SADAR

Ph: 514204

Embassy (** star)

SHAHRAH-E-FAISAL

Ph: 4535461-70

Falcon (* star)

SADAR

Ph: 515933,5677185

Faran (** star)

SHAHRAH-E-FAISAL

Ph: 4532478-86
Gateway (* star)

SADAR

Ph: 514063-67

Ghareeb Nawaz (* star)

CANTT STATION

Ph: 512881

Gilani (* star)

CANTT STATION

Ph: 5661745

Gul-e-Baluchistan (* star)

SADAR

Ph: 749244-45

Holiday (* star)

SADAR

Ph: 5661231-34

International (* star)

SADAR

Ph: 511460, 5677217
Jabees (*** star)

SADAR

Ph: 512011-15

Jahalawan (* star)

SADAR

Ph: 7512369

Karachi (* star)

SADAR

Ph: 5680834, 5685326-27

Khaleeg (* star)

SADAR

Ph: 7514089, 748787

Kuram (* star)

CANTT STATION

Ph: 512867

Lyari (* star)

SADAR

Ph: 7528711,7514933

Marriott (**** star)

SADAR

Ph: 5682011,5680111

Mehran (*** star)

SHAHRAH-E-FAISAL

Ph: 5660851-63

Midway House (*** star)

KARACHI AIRPORT

Ph: 4570371-75

Monalisa (* star)

CANTT STATION

Ph: 5662670, 512528
Naveed (* star)

SADAR

Ph: 7526265, 7526365

New Attock (* star)

CANTT STATION

Ph: 5677687

Nishat (* star)

CANTT STATION

Ph: 516240, 5678762

Ocean (* star)

SADAR

Ph: 5681922, 5684477

Pak International (* star)

SADAR

Ph: 5680820,5685613

Paradise (** star)

SADAR

Ph: 5680011-18

Park (* star)

SADAR

Ph: 210870, 210876-79

Pearl Continental (**** star)

CLUB ROAD

Ph: 5685021, 111-505-505

Poonam (* star)

SADAR

Ph: 5672834,5680481

Regent Plaza Hotel & Convention Centre (**** star)

SHAHRAH-E-FAISAL

Ph: 5660611-50
Reliance (** star)

SADAR

Ph: 511152,5111546-7

Roval City (** star)

SARMAD ROAD

Ph: 5682378,5680247

Sarah (** star)

SADAR

Ph: 5677160-62

Sarawan (** star)

SADAR

Ph: 516001-10

Savour (* star)

P.E.C.H.S

Ph: 4521362,4446262

Shah Zhob (* star)

UNIVERSITY ROAD

Ph: 421876

Shaheen (* star)

CANTT STATION

Ph: 5676496, 518291

Shalimar (* star)

CANTT STATION

Ph: 511104, 513185

Shalimar (* star)

SADAR

Ph: 512991-93, 5677672

Shams (* star)

CANTT STATION

Ph: 5677322
Sheraton Hotel & Towers (***** star)

CLUB ROAD

Ph: 568160

Sindh Star Lodge (* star)

SADAR

Ph: 7722882

Star Lodge (* star)

SADAR

Ph: 24332581

Tariq (* star)

P.E.C.H.S

Ph: 4520367,452432

The Best Western Plaza (*** star)

SADAR

Ph: 5670351,5680706

Zeshan (* star)

P.E.C.H.S

Ph: 448919,444537
---
Agha Khan Gymkhana

Behind Zoological Gardens
Karachi-74400
Ph. # (92-21) 7213323

Auto Travel Club of Pakistan

72-Garden Road
Karachi
Ph. # (92-21) 7727782-7724893

Civil Aviation Club

Near Star Gate,Shahrah-e-Faisal
Karachi
Ph. # (92-21) 4580231-9218712

Karachi Boat Club

Boat Club Road,Off:M.T.Khan Road
Karachi
Ph. # (92-21) 5611900-5610900

Karachi Gymkhana

4-Club Road
Karachi-75530
Ph. # (92-21) 5689174-5689173-5689186-5689187
Fax # (92-21) 5211002
merajmohani@usa.net

PAF Yacht Club

PAF Base Korangi Creek
Karachi
Ph. # (92-21) 5090243
Fax # (92-21) 4942360

Sind Club

Abdullah Haroon Road
Karachi
Ph. # (92-21) 5210106

Syed Saeed Meer Academy

TC-V,34th St.,Khyaban-e-Sehar,Phase-V Ext.,D.H.A.
Karachi
Ph. # (92-21) 5850242
Fax # (92-21) 5845709

The Karachi Club

Ziauddin Ahmed Road
Karachi
Ph. # (92-21) 5689572-5689571

The Yacth Club

Grindlays Bank's Building,I.I.Chundrigar Road
Karachi
Ph. # (92-21) 2412127
---
Emergency / Help Telephone Numbers
Accident Centre

CPLC Ph. 431010, 5682222

Ambulance Services

Al-Mustafa Diabetic & Diagnostic Centre Ph.472323 , 478466, 4966537

Edhi Head Office Ph. 2413232, 2413158

Edhi Emerg. Centre Ph. 2310066, 2310077

Edhi Welfare Centre Ph. 225225, 683432

Edhi Ambulance 115

Fatmid Foundation 7215282, 7217960

St.John Ambulance Ph. 7210600, 7210500

Red Cresent Ph. 7213259, 5833973, 5836281

Al-Mustafa Welfare Trust Ph. 6337810

Alamgir Welfare Trust Ph. 4852055-6 Lines

Blood Bank

Al-Mustafa Diabetic & Diagnostic Centre Ph.472323 , 478466, 4966537

Edhi Blood Bank Ph. 445105, 452815

Fatmid Ph. 7225284, 7225343, 7213323

Hussani Blood Bank Ph. 7222885, 7210423

P.W.A (Civil Hospital) Ph. 9215740, 9215959

St.John Ambulance Ph. 7210600, 7210500

Red Cresent Ph. 578706, 5836281

Bomb Disposal

Disposal Squad Ph. 9212680

Incharge Bomb Disposal Squad Ph. 77226455

Civil Defence Bomb Disposal Ph. 15-2416626,

Civil Defence Ph. 2412222, 2415111

Flight Enquiry

114

445791259

45791260

4579444

4572371

4579333

Railway Enquiry

Enquiry 117

9206075-76

Fire Fighting Services

Emergency Ph. 16

Chief Fire Officer KMC Ph. 7773252

Central Fire Station Ph. 9215007, 9215008

Central Station Ph. 7724891, 7724892

Baldia Town Fire Station Ph. 2562245

Fire Station PIA Ph. 7773252

Gas Fire Station Ph. 4934881, 4934882

KPT Fire Station Kemari Ph. 272042, 272043

KPT Fire Station TPX Ph. 2413968

KPT Fire Station West Wharf Ph. 2314488

KPT Fire Station OP-L Ph. 272182

Landhi Fire Station Ph. 5015888, 5014396

Lyari Fire Station Ph. 7527521, 7528090

Manzoor Colony Fire Station Ph. 5804094

Nazimabad Fire Station Ph. 6649983, 620778

New Karachi Fire Station Ph. 6974020

Orangi Fire Station Ph. 6651222, 6650515

Saddar Fire Station Ph. 7219864, 7217960

Shah Faisal Fire Station Ph. 9218037

S.I.T.E Fire Station Ph. 2562245, 2562243

Sohrab Goth Fire Station Ph. 6365353

Law Enforcement Agencies

Police Control Ph. 15

DIG Police Ph. 9212652, 9212653

DIG Police Traffic Ph. 9212691, 9212692

DIG Police Special Branch
Ph. 9212678,9212679

S.S.P Karachi East Ph. 4933340, 49333085

S.S.P Karachi West Ph. 2576622

S.S.P Karachi South Ph. 9205671, 9205672

S.S.P Karachi Central Ph. 6344824, 6383409

S.S.P Karachi Malir Ph. 5011222

S.D.M Karachi Division (Dist.East)

S.D.M Jamshed Quarters Ph. 4938759

S.D.M Gulshan-e-Iqbal Ph. 4945525

S.D.M Ferozabad Ph. 4927755

S.D.M Model Colony Ph. 4946095

S.D.M Shah Faisal Ph. 494559

S.D.M Landhi Korangi Ph. 5894473

S.D.M Karachi Division (Dist.West)

S.D.M Orangi Town Ph. 2563837

S.D.M SITE Ph. 2563836

S.D.M Harbour Ph. 9214364

S.D.M Baldia Town Ph. 2563111

S.D.M Manghopir Ph. 2573899

S.D.M Karachi Division (Dist.South)

S.D.M Civil Lines Ph. 9215860

S.D.M City Ph. 9215859

S.D.M Saddar Ph. 9215857

S.D.M Arambagh Ph. 9215861

S.D.M Eidgah Ph. 9215856

S.D.M Garden Ph. 9215858

S.D.M Preedy Ph. 7732037

S.D.M Karachi Division (Dist.Central)

S.D.M New Karachi Ph. 6981649

S.D.M Gulberg Ph. 6984967

S.D.M Nazimabad Ph. 6980326

S.D.M North Nazimabad Ph. 6984705

S.D.M Liaquatabad Ph. 6981642

S.D.M Karachi Division (Dist.Malir)

S.D.M Bin Qasim Ph. 5013057

S.D.M Gadap Ph. 4560724

S.D.M Airport Ph. 9218694

Police Stations

Airport Ph. 4571420, 457122

Al-Falah Ph. 4513500

Arambagh Ph. 2632222

Art.Maidan Ph. 9205684, 9205662

Aziz Bhatti Ph. 4969494, 472222

Azizabad Ph. 6339996

Baghdadi Ph. 7528565, 7528566

Bahadurabad Ph. 4936557, 4932223

Baldia Ph. 2574422, 2562322

Baloch Colony Ph. 4521393

BinQasim Ph. 4574224, 7769424

Brigade Ph. 7780002, 7782222

Buffer Zone Ph. 6982222

Cantt. Railway Ph. 9206072

Chakiwara Ph. 742223, 7529641

City Court Ph. 7774923

City Railway Ph. 2419814

Civil Lines Ph. 9205681

Clifton Ph. 5868224, 578278

Darakhsan Ph. 5834599

Defence Ph. 5896880, 5896870

Docks Ph. 272222, 2850537

Eidgah Ph. 7725814, 7722224

Ferozabad Ph. 4542200, 4523222

Frere Ph. 9205665

Gadap Ph. 4561100, 4560033

Garden Ph. 7720505, 7722222

Gizri Ph. 5891709, 542224

Gulbahar Ph. 6622882, 627994

Gulberg Ph. 6362222, 6344664

Gulistan-e-Johar Ph. 8117444

Gulshan-e-Iqbal Ph. 4991075, 492222

Gulzar-e-Hijri Ph. 8142217, 6319255

Ibrahim Hyderi Ph. 5046644

Jackson Ph. 272222, 2850537

Jamshed Quaters Ph. 4919652, 4919578

Joharabad Ph. 6323212, 6312222

K.P.T. Ph. 2314398, 23144399

Kalakot Ph. 742224, 7524970

Kalri Ph. 7524722, 7512222

Khawaja Ajmer Nagri Ph. 649100, 6902100

Kharadar Ph. 2436109, 2432223

Khokrapar Ph. 4510539, 4511879

Korangi Ph. 5064774, 5065555

Korangi Industrial Area Ph. 314912, 5053131

Landhi Ph. 5042322

Liaquatabad Ph. 4919616, 4919590

Malir Cantt. Ph. 9217431

Malir City Ph. 4513032

Mangohpir Ph. 649600-9567

Mauripur Ph. 2351712

Mehmoodabad Ph. 5896709

Mithadar Ph. 2436112, 2442222

Mobina Town Ph. 4465555, 464066

Mochkaa Ph. 2810566, 2810286

Model Colony Ph. 4513833, 4602222

Mominabad Ph. 6650061

North Nazimabad Ph. 6632222, 6637220

Nabi Buksh Ph. 7721489, 7722223

Napier Ph. 7731329, 7732224

Nazimabad Ph. 6222222, 66222222

New Karachi Ph. 6902222, 9602323

New Town Ph. 4932224, 4939650

North Karachi Indust.Area Ph. 6973439

Orangi Extension Ph. 6658300, 6692860

Orangi Town Ph. 6658085, 6652223

Pak Colony Ph. 2573131, 2572224

PIB Colony Ph. 4946943

Pirabad Ph. 6653140, 6652021

Preedy Ph. 7721456, 7732222

Quaidabad Ph. 5013971, 5013970

Risala Ph. 7732223, 7732747

S.I.T.E Ph. 2562222, 2573322

Sacchal Ph. 7781222, 7782587

Saddar Ph. 8142217, 6319255

Saeedabad Ph. 2812181, 2814444

Samnabad Ph. 6362222

Saudabad Ph. 4512526, 4502225

Shah Faisal Colony Ph. 9218007, 9218009

Sharfiagoth Ph. 5018597, 5015757

Sharifabad Ph. 6344673

Shershah Ph. 2579866, 299433

Shahrah-e-Noor Jahan Ph. 6639635

Soldier Bazar Ph. 7212222, 7218270

Steel Town Ph. 4915763

Sukkun Ph. 7739317

Surjani Town Ph. 6912221

T.P.X. Ph. 2312858

Taimuria Ph. 6642266

Tipu Sultan Ph. 44529286, 4530814

Women Ph. 5684566, 9205662

Zaman Town Ph. 5065422

Commissioner Karachi

Commissioner Ph. 9205610, 9205607

Emergency No. 135

Civic Complaint Centre 135

Additional Comm-I Ph. 9205622, 9205632

Additional Comm-II Ph. 9205615, 9205631

Asst.Commissioner General Ph. 9205641

Asst. Commissioner Revenue Ph. 9205633

Deputy Commissioner Karachi

Deputy Comm East Ph. 4938381, 4939671
Emergency No. 4930093

Deputy Comm West Ph. 2562000, 2562001
Emergency No. 2563838

Deputy Comm Central Ph. 6909043, 6908712
Emergency No. 6981845

Deputy Comm Malir Ph. 5011101, 5011184
Emergency No. 5015155
---
BASIC FACTS